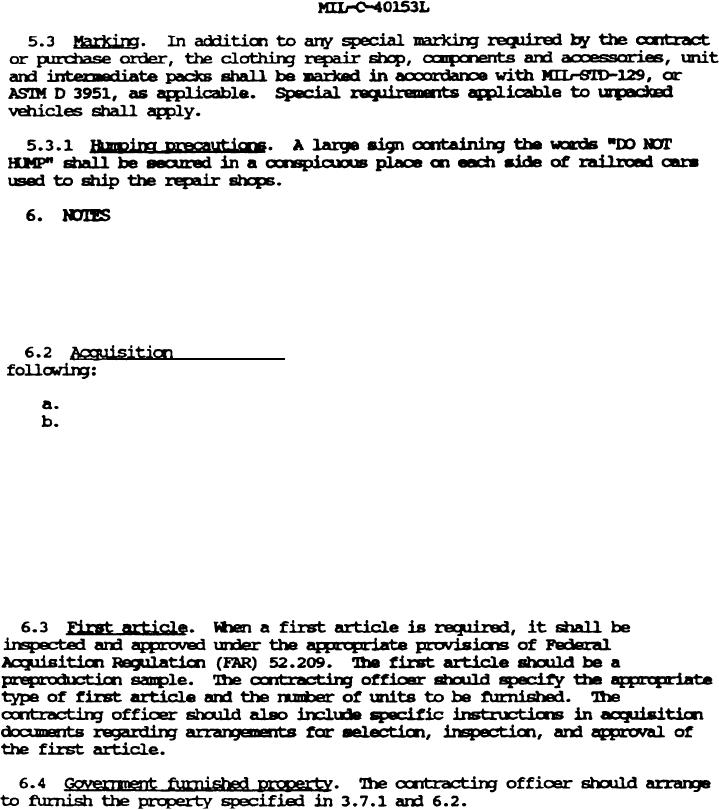 (This section contains information of a general or explanatory nature that
may be helpful, but is not mandatory.)
6.1

Intended

use.

The

trailer

m o u n t e d
for repairing the clothing of troops in the field.
requirements.

Acquisition

documents

must specify the
Title, number, and date of this specification
Issue of DODISS to be cited in the solicitation, and if required,
the specific issue of individual dicuments referenced

see

2.1.1
When a first article is required (see 3.2, 4.3, and 6.3).
When data name plate is for Marine Corps (see 3.6).
Whether Army or Marine Corp marking is required (see 3.6.1).
Source

and

delivery

of

Government

furnished

3.7.1
Source and delivery of Government loaned property

see"

3.7.2

and
Levels of preservation and packing (see 5.1 and 5.2).
6.5

Government

loaned

property.

The

contracting

officer

should

arrange

to
specified in 3.7.2 and 6.2.