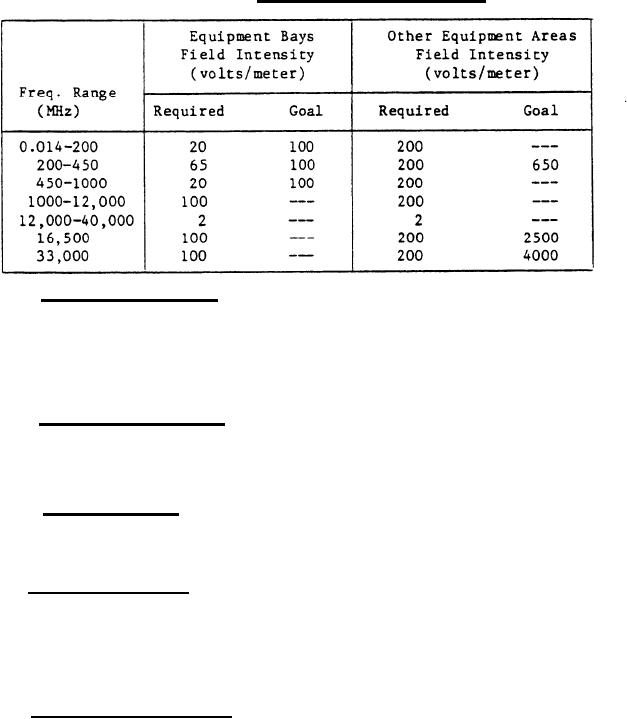 30.3 Wiring and cabling. all interconnecting cables shall be classified
into

groupings

representing

categories

of

similar

signals.

The

contractor

shall
provide
each
type
with
3
shielding

and

grounding

criteria

that

are

in
accordance

with

sound

E

design

procedures.

Maximum

spacings

between

dis-
similar

cable

harnesses

shall

be

maintained

and

harnesses

shall

be

routed

as
closely

to

the

ground

plane

as

permitted.
30.4 Degrdation criteria. Degradation criteria shall be established for
the system. This criteria shall be used to predict and to evaluate malfunction
and unacceptable responses. These criteria shall be defined in the system E
test

procedures

in

terms

of

input

and

output

parameters.
Safety margins. Safety margins shall be established for the system
assigned to critically categories I and II. The safety margin for aircraft
electro-explosive

devices

(EEDs)

is

defined

by

MIL-STD-1385.
30.6

Electrical

power.

The

contractor

shall

provide

E

design

criteria
to

ensure

the

system

installation

shall

not

malfunction

nor

have

unacceptable
responses when supplied with electrical power conforming to MIL-STD-704. This
specifically
includes
surges,
ripples
and
other
electrical
conditions
that
can
cause interference Short duration, infrequent transients or equipment wires
are

required

to

meet

MIL-E-6051

spike

requirements
30.7

Lightning

protection.

The

contractor

shall

prvide

E

design
criteria

to

ensure

that

the

system

shall

be

designed

to

provide

lightning
protection in accordance with MIL-E-8057. The contractor shall make available
for

review

and

acceptance

by

the

procuring

activity

a

plan

to

demonstrate

that
all

elements

of

the

system

shall

be

adequately

protected

against

lightning
hazards. Protection of personnel, fuel, weapons and ordnance subsystems shall
be

given

special

emphasis

and

proven

by

test.

Lightning

protection

shall

be