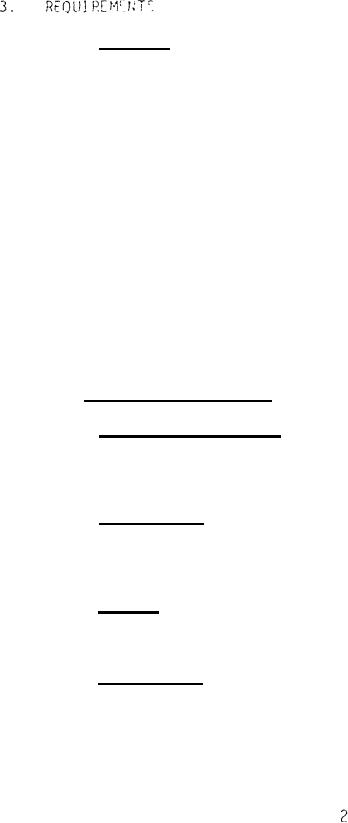 General.

When specified in contracts, orders, specifications
or

drawings

, aircraft support equipment and other flight line vehicles
shall be marked with reflective tape conforming t
o
L-S-30, Type II,
Class

3,

Reflect.lv~ty

No.

1,

Color

g,

Width

2

inches.

The

tape

shall
be applied along the extreme perimeter of the equipment to reflect its
general outling configuration, when operating under reduced lighting
conditions.

When possible, the tape shall be applied to delineate the
entire perimeter of the equipment.

however,

equipment

having

perimeter
surfaces containing compound curves at the corners or large rivets, nuts,
bolts, etc. need not be marked in these particular areas provided the
marking provides a general outline of the equipment.

Application

of
the reflective material shall not obliterate other markings (i.e., cau-
tion,

capacity, danger, name plates,

servicing/safety

instructions,
product

marking,

etc.).

Wheel chocks,

tie

downs

and

other

small

equip-
ment whose configuration does not readily lend itself to the appliction
of reflective tape shall be marked with 2 inch circular stripes of
reflective

paint

(i.e.,

wheel chocks shall be marked around the middle
and

each

exposed

end).

The paint shall conform to the requirements of
Specification TT-C-001060, Color No. 7211.
3.2.1 Surface Preparation: The surface to which the tape or paint
will be applied shall be cleaned of all loose scale and dirt; all de-
posits of cleaning compounds shall be removed.

The

surface

shall

be
3.2.2

Application:

Apply in accordance with the manufacturers
instructions.

Insure that all air bubbles are removed when tape is
applied

Do not apply at temperatures below 50°f.

NOTE:

Do

not

oven
bake equipment after

the

reflective

material

has

been

applied.
3.2.3

Sealer:

Sealing compound conforming to TT-V-109 shall be
applied

to

the

edges

of the tape in the form of a fillet to protect the
Workmanship:

The reflective material shal not be haphazardly
applied and shall be free from ragged edges, viods, cracks, scales, air
bubbles,

blisters

or

dirt.