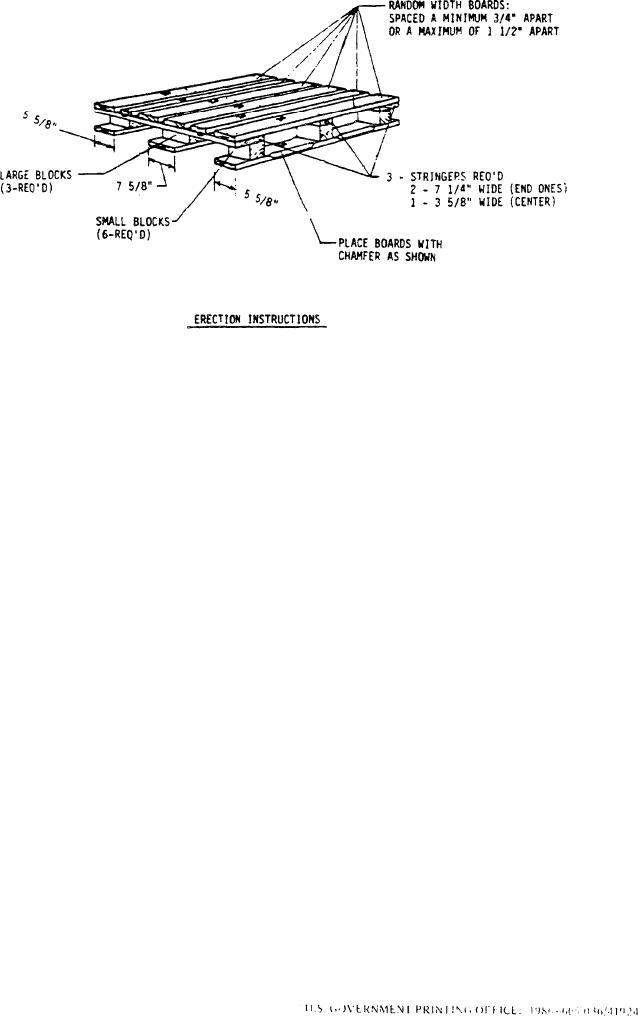 STEP 1 - REMOVE THE DUNNAGE AND STRAPS
HOLDING THE UNASSEMBLED PALLETS
STEP 2 - REMOVE THE BOARDS FOR THREE PALLETS.
NOS. 1, 2, & 3, AND KEEP ALL LIKE
STEP

3- REMOVE PALLET NO. 4 AND THE FRAME
CONTAINING ALL THE BLOCKS AT THE
SAME TIME. THE BLOCKS ARE NOT
MARKED. SIX SMALL AND 3 LARGE
BLOCKS ARE REQ'D) FOR EACH PALLET.
STEP 4 - ASSEMBLE REMAINING PALLET PARTS.
THEY ARE STACKED IN SEQUENCE.
USE 1 5/8 1 5/8 LONG NAILS WHEN NAILING THROUGH DECKBOARDS INTO STRINGER BOARDS.
USE 3 1/4 INCH LONG NAILS WHEN NAILING TOP DECKBOARDS AND STRINGER BOARD
uSE 2 1/4 INCH LONG NAILS WHEN NAILING BOTTOM DECKBOARDS INTO POSTS.
TO BE USED IN CONJUNCTION
FIGURE

5 -

ERECTION

INSTRUCTIONS

FOR

TYPE

II

PALLETS,

UNASSEMBLED,
WOOD,
4-WAY
ENTRY,
GENERAL
STORAGE