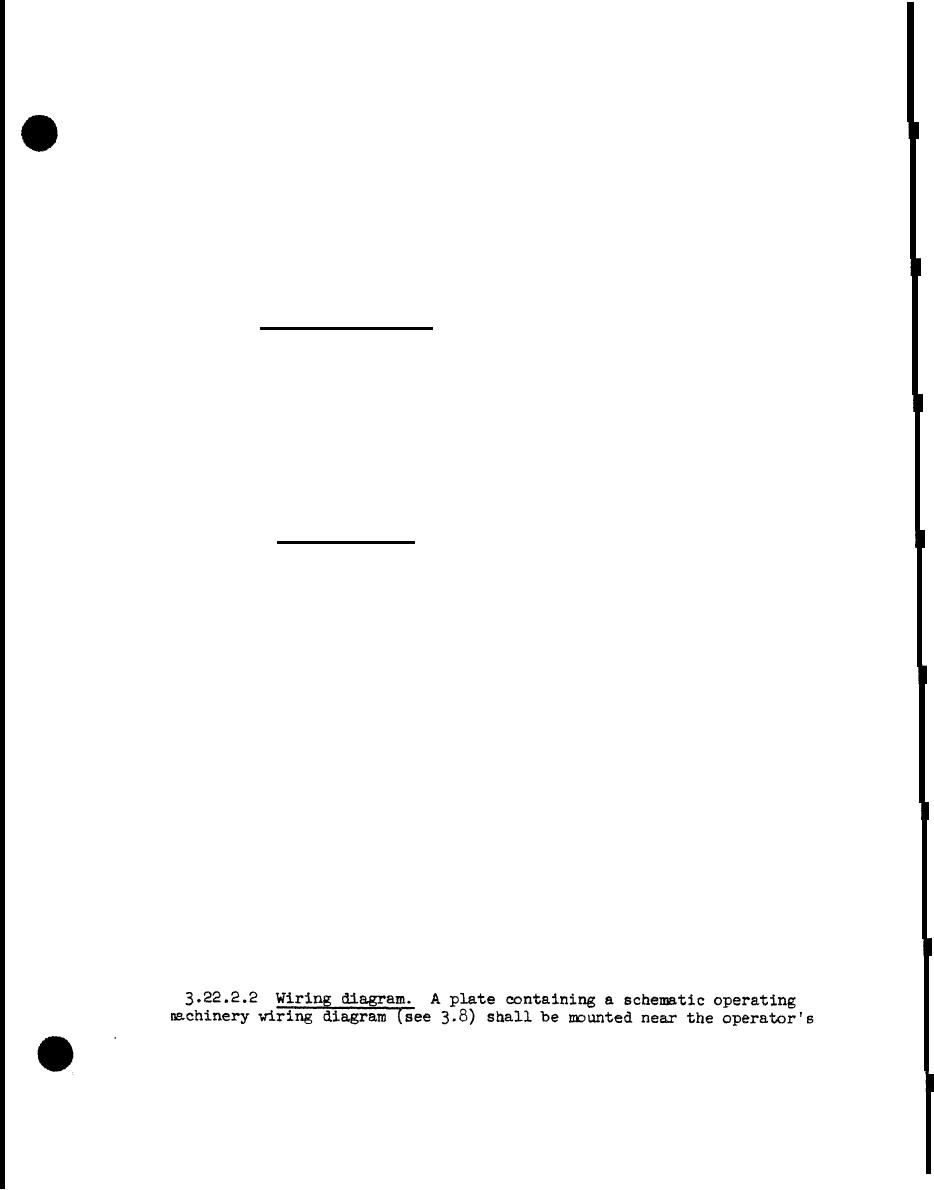 and in additions shall show the silhouette of the unit in transport
position indicating the center of gravity and the location and capacity
of the lifting and the tiedown attachments. The plates shall be attached
by

screws,

bolts,

or rivets in a conspicuous protected location.
3.22.2 Instruction plates. Instruction plates shall be furnished
and shall conform to MIL-P-514, type III, composition C, of type I, grade
A, class 1 material, dimensions to suit the application. These plates
shall indicate sequence for start up, shut down, and normal operation;
production capacity; and all inherent dangers which can stem from un-
safe operation or an unsafe operating position.

The

safety,

warning,
caution, and notice plates shall be in accordance with USA Standard
Z 35.l, except that the size may be reduced to be compatible with the
available

space.

All

plates

shall

be

securely

attached

to

the

unit

.
with machine screws, bolts and nuts, or rivets
}
and shall be furnished
and

mounted

by

the

supplier.
The following warning plates shall be
A plate placed on the outside of the distribution panel
(see
3.8.2.4),
with
the
following
wording:
"warning.

Install a ground rod and lead by bolting
ground wire to grounding stud on screening unit
frame before this screening unit is operated. A
ground rod and lead should also be installed at
power source (generator)."
A plate placed adjacent to grounding stud or bolt
( see 3.8.3.1) with following wording: "Attach
Two plates, one on each side of the semitrailer at the
kingpin, each with the following wording:
"Warning.

This kingpin is reversible, having 2-inch
and 3-1/2-inch throat diameters. When coupling this
semitrailer to the dolly or to a truck-tractor
}
be
sure to use the proper end of the kingpin."
One plate located in a conspicuous place on the dolly
having the following wording;
"Warning.

Do not connect this dolly to any semi-
trailer unless a 3-1/2-inch throat diameter kingpin
is in place on the semitrailer."