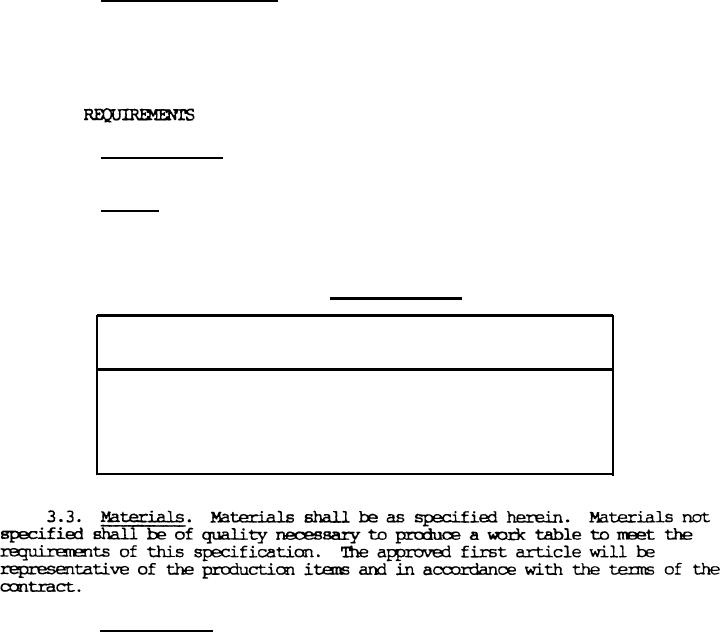 (Copies of specifications, standards, drawings, and other Government
documents required by contractors in connectionith specific acquisition
funtions

should

be

obtained

from the contracting activity or as directed by
the contracting activity.)
In the event of a conflictetween the text
of this specification and the references cited herein (except for associated
detail specif ications, specification sheets or MS standards )

the

text

of

this
specif

ication

shall

take

precedence.

Nothing in this specification, however,
shall supersede applicable laws and regulations unless a specific exemption
3.1.

First

article.

When specified in the contract or purchase order,
sample shall be subjected to first article

inspection(see

4.2.1

and

6.2.1).
3.2.

Design.

The work tables and all its parts shall conform to the
applicable drawings specified in Table I and the requirements specified
herein. All dimensions shall be maintained within the tolerances specif ied on
3.4.

Construction. The work tables shall be complete and so constructed
as to be capable of meeting the requirements specified for each type and class
of

work

tables

in

this

specif

ication.

The work tables shall be capable of
being assembled and disassembled with common tools, and shall not require
force in the fitting and alignment of components that would cause
disf

iguration

or

distortion.

Construction shall be free from any
characteristics and defects that will prevent a table from passing the
examination of any of the tests in Section 4.