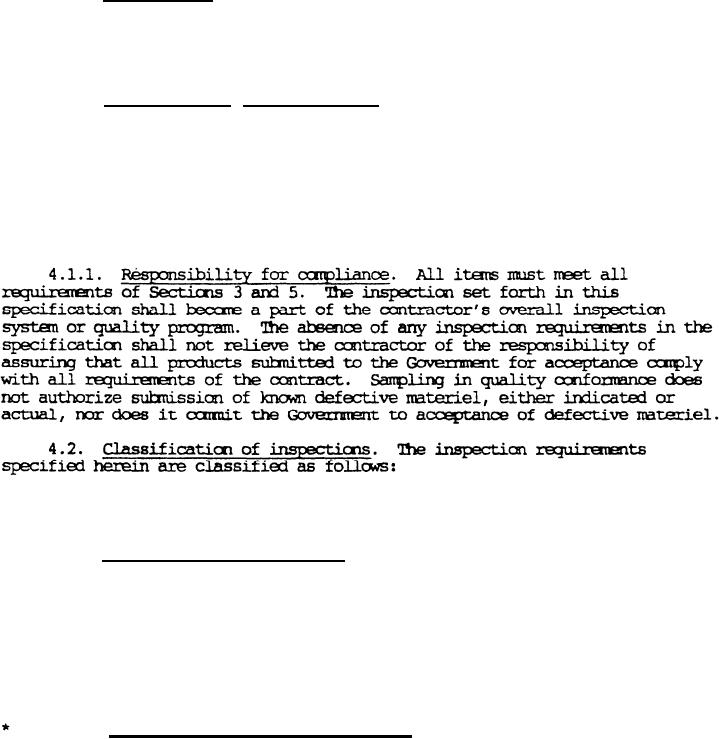 3.9.

Workmanship. Work tables shall be processed in such a manner o be
free from cracked or misplaced parts, sharp edges, burrs, defective parts, and
other defects which will affect life, servicability, or appearance.
4.1.

Responsibility

for

inspection.

Unless

otherwise specified in the
contract or purchase order, the supplier is responsible for the performance of
all inspection requirements as specified herein. Except as otherwise
specified in the contract or order, the supplier may use his own or any other
facilities suitable for the performance of the inspection requirements
specified herein, unless disapproved by the Government. The Government
reserves

the

right

to

perform

any

of

the

inspection

Set forth in the
specification

where

such

inspecti

ons are deemed necessary to assurelies
and services conform to prescribed requirements.
(a] First article inspection (see 4.2.1).
(b)
Quality
conformance
inspectiion
(see
4.2.2).
4.2.1
First
article
inspection.
When
specified
(see
6.2.1),
first
article inspection shall be applied to the preproduction model or initial
production item noted in 3.1. The type II work table (which is normally
shipped disassembled) shall be assembled for first article inspecti n

only.
Unless otherwise specified (see 6.2.1), first article inspection shall consist
of the examination in 4.3 and all tests under 4.4. Failure of the first
article to pass the examination or any of the tests shall be cause for
rejection.

Failure of any

subsequent

production

item

be

identical

to

the
approved first article shall be cause for rejection of the item.
4.2.2.

Quality

conformance

inspection.

Unless

otherwise specified (see
6.2.1), quality conformance inspection shall be applied to production units
offered for acceptance under the contract. Quality conformance inspecti on
shall consist of (a) through (e) as follows, and failure of any unit to pass
an

examination

inspection

shall

be

cause

for

rejection

of

the

unit.