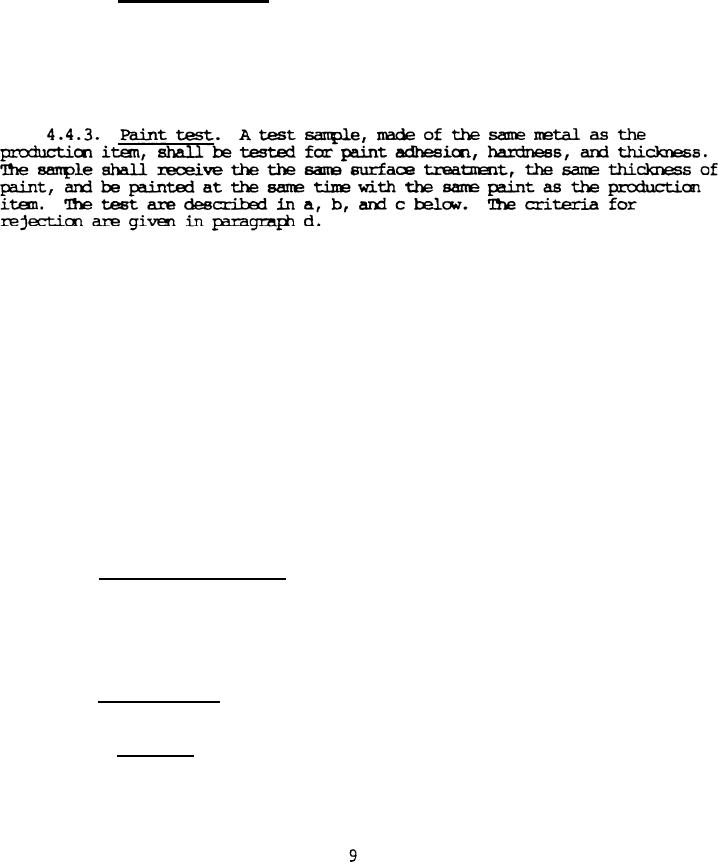 drawers.

It is recommended that No. 40 shot be used for filling the
necessary

shot

bags.

The

table

shall

remain static loaded for a period of 24
hours.

The work table shall then be unloaded and examined or damage and to
determine conformance

with

the

requirements

specified

in

3.5.1
4.4.2.

loaded vibration. The assembled work table shall be rigidly
fastened to the vibration machine through its mounting holes. The work table
shall then be loaded as specified in 4.4.1. When loaded, the table shall be
subjected to vibration with an amplitude of 1/16 inch (1/8 inch total
excursion) at a frequency of 600 cpm for a period of 1 hour in the direction
of the vertical axis. After vibration, the table shall be unloaded and
examined for evidence of damage to determine compliance with 3.5.2.
(a) Two intersecting straight lines, approximately two inches long, shall
be

cut

through

the

point

to

the

base

metal

of

the

test

sample.

A
strip of 1/2 inch wide fiberglass tape shall be pressed over the
intersection and then pulled from the surface.
(b)

The

sharpened

leads

of an

Hand

an HB

wooden

lead

pencil

shall

be
pressed vertically onto the painted surface until the leads crumble or
break. The surface shall be cleaned and examined.
(c) The thickness of the unpainted test sample shall be measured and
recorded to an accuracy of 0.0002 inch. The measured value shall be
used in the calculation of final paint thickness.
(d) A paint thickness of less than 2.0 mils (0.0020), or an indentation
caused by the HB lead, or no indentation left by the H lead, or
evidence of any paint loss due to removalf the fiberglass tape,
shall be cause for rejection (see 3.7).
4.5.

Packaging

inspection.

unless otherwise specified in the contract,
the tables shall be inspected before and after packaging to determine
compliance with the preservation, packaging, packing and marking requirements
Preservation shall be level A or C, as specified