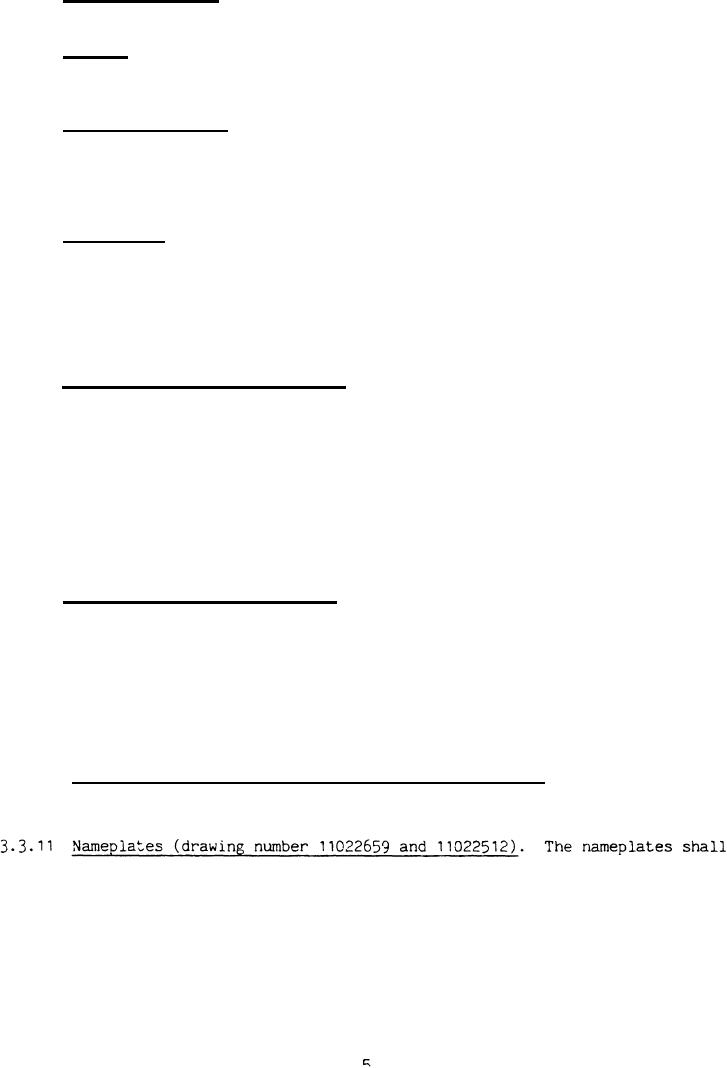 3.3.4 Fastening devices. All fastening devices subject to removal or adjustment
shall not be swaged, peened, staked, or otherwise permanently deformed.
3.3.5

Threads.

All threaded parts of the welding machine and its components
shall conform to FED-STD-H28 and applicable "Detailed Standard" section referenced
3.3.6 Interchangeability. All parts shall be manufactured to definite
standards, clearances, and tolerances in order that any part may be replaced,
interchanged, and adjusted without modification of the replacement part or any parts
of

the

unit.

All

replaceable

parts

and

assemblies

shall

be

permanently

and

legibly
marked

in

accordance

with

MIL-STD-130.
3.3.7 Lubrication. The contractor shall include and install all lubricants,
fluids, greases and other compounds ready for operation upon arrival to the
Government.

In the event a lubricant reservoir cannot br covered and sealed, the
appropriate

lubricant

shall

be

provided

in a

sealed

container

and

shipped

with

each
welding

machine.

A warning tag shall be placed near the filling area, warning the
user to install the furnished lubricant before operation of the equipment.

The
operator's manual shall also reflect the above warning.
3.3.8

Cleaning,

treating

and

painting.

Surfaces to be painted as specified on
Drawing 11022100 and applicable drawings referenced therein shall be cleaned and dried
to ensure they are free of contaminates such as oil, grease, welding slag and spatter,
loose mill scale, water, dirt, corrosion products or any other interfering substances.
After cleaning and before any corrosion product or other coating interfering material
can be deposited, the surface shall be prepared or treated to ensure adhesion of the
coating

system.

Finish methods shall be as specified on the individual drawings and
drawing

11021251.

The

total

dry

film

thickness

shall

not

be

less

than

2.5

roils

over
the

entire

surface.

The color of the finish coat shall be lusterless forest green
infrared

absorbent

paint.

The primer shall be applied as specified on drawing number
3.3.9 Fungus and moisture resistance. The electrical circuitry specified on
Drawing 11022100 and applicable drawings referenced therein shall be protected from
fungus growth and moisture by an overall fungus treatment in accordance with MIL-V-173
Components of circuit elements that are inherently fungus and moisture
resistant or which are hermetically sealed need not be treated.
Components or circuit elements whose functions will be adversely effected by
the

coating

shall

not

be

treated.
3.3.10

Welding

leads (drawing number 11021420 and 11021430). The machine shall
be equipped with one 50 foot (15.24 meters) electrode lead and one 50 foot (15.24
contain

the

information

listed

below.

The approved

item

name

shall

be:
Machine
Arc,
DC,
CC-CV,
Gen.,
DED,
Base
Mounted.
Manufacturer's Model Number
Manufacture's
Serial
Number,
Engine

Make,

Model, and Serial Number
Constant
Current
Characteristics
(CC)