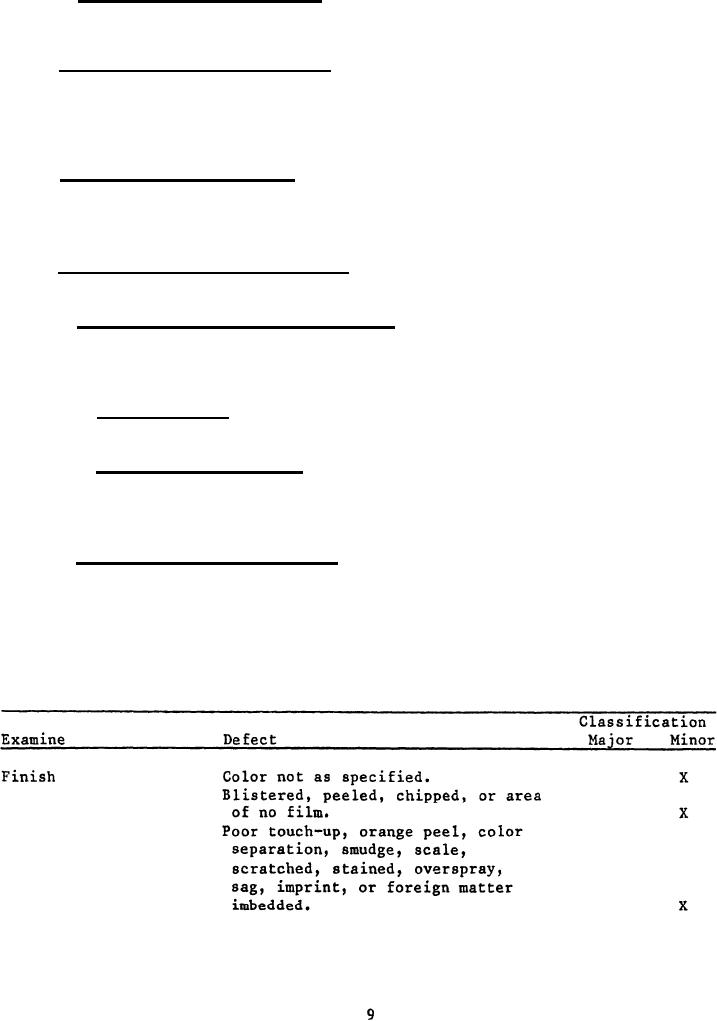 4.1.3 Certificate of compliance. When certificates of compliance are sub-
mitted, the Government reserves the right to inspect such items to determine the
validity of the certification.
The inspection requirements specified
4.2 Classification of inspection.
herein are classified as follows:
First article inspection (see 4.3).
Quality conformance inspection (see 4.4).
4.3

First

article

inspection.

When a first article is required (see 6.2), it
shall be examined for the defects specified in table I and 4.4.3 and tested as
specified

in

4.6.1

thru

4.6.10.

The presence of any defect or failure of any
test shall be cause for rejection of the first article.
4.4 Quality conformance inspection. Unless otherwise specified, sampling for
inspection shall be performed in accordance with MIL-STD-105.
4.4.1 Component and material inspection. In accordance with 4.1, components
and materials shall be inspected in accordance with all the requirements of
referenced documents unless excluded, amended, modified, or qualified in this
document or applicable purchase document.
4.4.1.1

Certification.

The contractor shall furnish certificates of
compliance for the requirements specified in 3.5.1 and 3.5.2.
4.4.1.2

In-process

inspection.

Examination of the surface preparation prior
to welding shall be made to determine compliance with 3.10.1.

Whenever

non-
conformance is noted correction shall be made to the applicable process and all
affected items processed.
4.4.2 End item visual examination. The end items shall be examined for the
defects listed in table I. The lot size shall be expressed in units of laundry
trailers.

The sample unit shall be one laundry trailer. The inspection level
shall be II and the acceptable quality level (AQL), expressed in terms of
defects per hundred units, shall be 2.5 for major defects and 6.5 for total
(major and minor combined) defects.