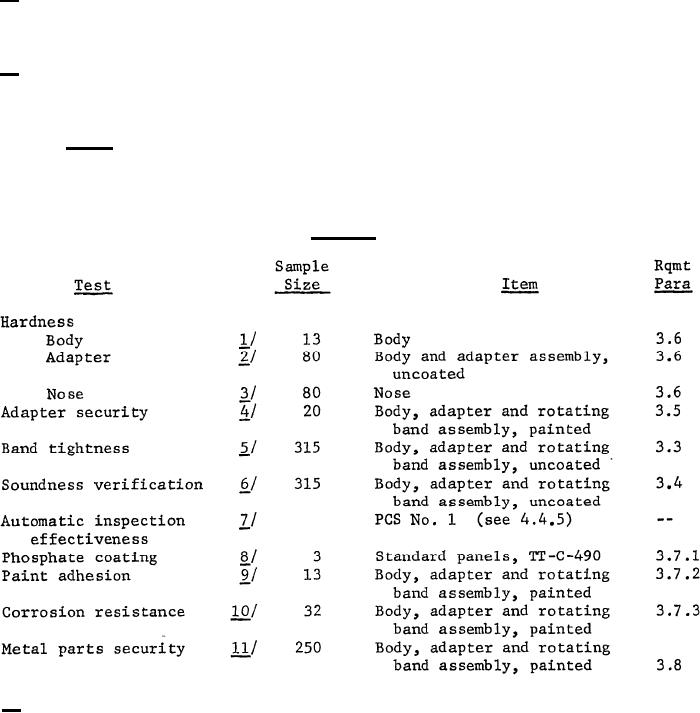 3/

Measurement

of

grooving

or

knurling

of

adapter

seat

for

compliance

with
the
minimum
depth
and
width
requirements
shall
apply
where
visual
inspection
indicates that the depth or width dimension is borderline.
4/ Measurement of rotating band seat knurling for compliance with the minimum
depth and width requirements shall apply where visual inspection indicates
that

the

depth

or

width

dimension

is

borderline.
4.3.4

Tests.

-

The

tests

listed

in

Table

I

shall

be

conducted

in

compliance
with the test methods and procedures prescribed by 4.4. The samples shall
be selected in such a manner as to be representative of the entire lot.
The sample size and acceptance criteria for each test shall be as specified.
1/ If two or more units of

the

sample

fail

to

comply

with

the

body

hardness
requirements,

the

lot

shall

be

rejected.

If

one

unit

fails

to

comply

with
the requirement, a second sample consisting of the same number of units as
specified

for

the

first

sample

shall

be

tested.

If in

the

accumulated
samples, two or more units fail to comply with the hardness requirement, the