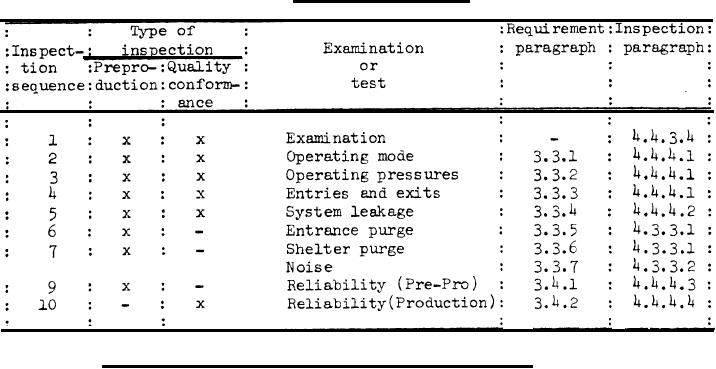 &
l
:
x
:
-
4.3.2.3

Reliability

qualification

(demonstration)

phase.

The sample of
four M51 shelter systems shall be simultaneously tested, in 24 hour periods,
as indicated below, and in accordance with 4.4.4.3.

The

reliability

test
shall be run on a 24 hour basis. The first 2 hours shall be run in the
recirculation

mode.

The next 20 hours shall consist of alternate 1 hour
heat and 4 hour cooling cycles giving a total of four each heating and
cooling

cycles

per

24

hours.

Thirty minutes after the initiation of each
recirculation, heating, and cooling cycle the operating parameters of
table I shall be measured and recorded. The remaining 2 hours of the 24
hour period are for striking and erecting the units. A maximum of 1 hour
maintenance is allowed during each 24 hour periods Every effort shall be
made to have each unit accumulate the same number of hours.

Where

subsystems
are procured separately, the testing of M68 Filters and Utilities Units with
Accessories (PL5-19-6821) shall be conducted as specified above using Govern-
ment furnished shelters and entrances. The subsystem defined by PL5-19-6822
(Shelter and Entrance Assembly with Accessories) shall be tested on a cyclic
basis according to table III. A cycle is defined as one erection, one hour
of

operation

with

pressures

recorded in the recirculation rode, and one
strike.

In the strike operation, the shelter and entrance assembly shall
be prepared for storage but will not be stowed. The number of cycles
shall be distributed among the shelter and entrance assemblies as nearly
equal

as

practical.

The following pressures shall be monitored during
operation:

shelter static pressure, airlock static pressure, and infla-
tion

air

pressure.

The M68 Filters and Utilities Unit shall be monitored
to

verify

normal

operation.