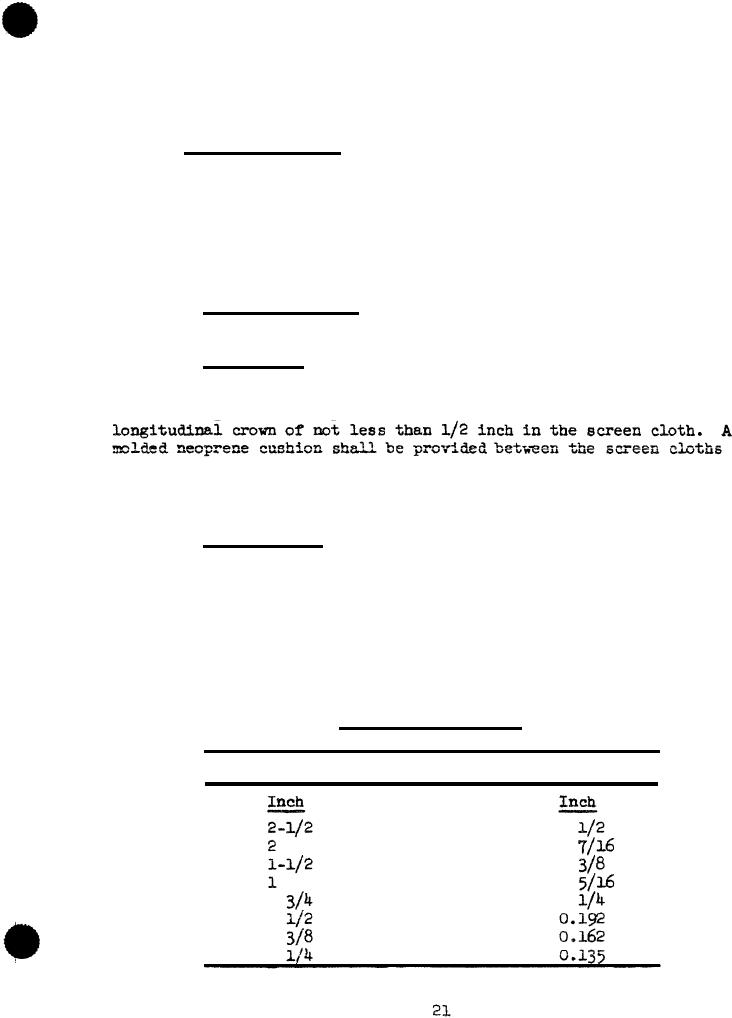 3.12

Vibrating

screen l The vibrating screen shall be 4 feet wide
by 10 feet long, with three decks. Screen cloth installed on the top
deck shall have a l-inch-square-opening; the second deck a l/2-inch-
square-opening;

and

the

bottom deck a l/b-inch-square-opening. The
vibrating screen shall consist of a live frame with screen cloths, a
vibrating mechanism, suitable vibration isolators, and drive, and may
include

a

stationary

frame.

Chutes and hoppers for feed and discharge
3.12.l Stationary frame. When provided, the stationary frame shall
be structural steel or castings.
3.12.2

Live

frame.

The live frame of the screen assembly shall be
steel plates an structural steel members with crossmembers to hold the
5-foot

screen

cloths.

The frame shall prevent movement of the screen
cloth

during

full-load

operation.

The crossmembers shall create a
and

the

crossmembers.

Screen cloths shall be changeable by using
common tools. The frame shall be balanced to provide an even flow of
material across the full width of the cloth.
3.12.3

Screen

cloth.

Screen cloth shall be furnished in 5-foot by
4-foot sections and shall conform to MS39127. Two 5-foot sections of
each size listed in table I shall be furnished in addition to those
3.12.3.1

Wire.

All screen cloth shall be made of crimping-grade,
oil-tempered, standard-heavy wire conforming to National Sand and
Gravel Association Circular No. 80, table 3, grade B, carbon range
0.55 to 0.70, drawn and hardened. Wire size shall be as shown in