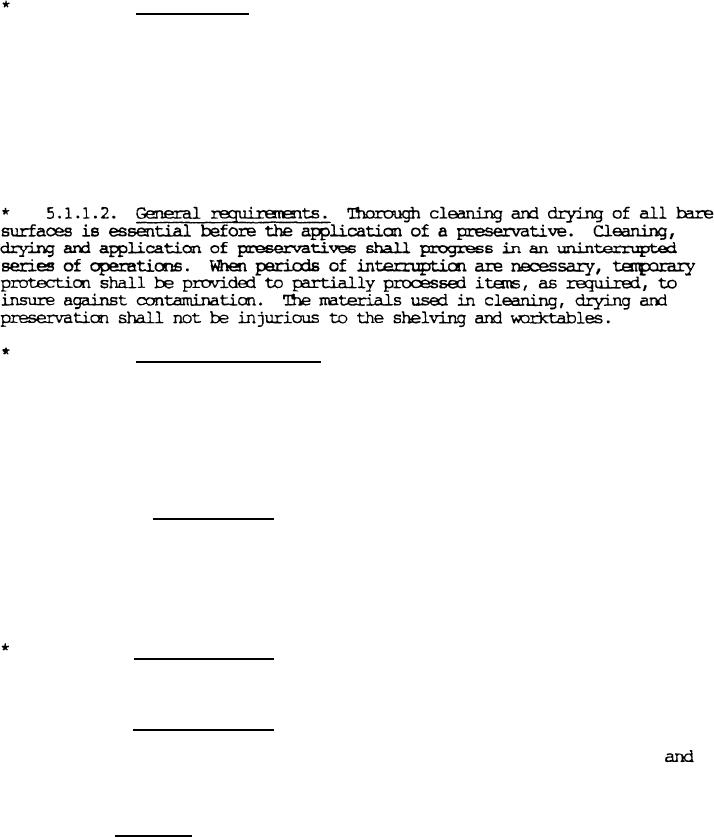 5.1.1.1.

Disassembly.

When practical, items shall be disassembled to
afford

protectiotn

of components, attachments, and accessories against damage,
pilferage and to reduce cubae, Disassembled parts shall be clearly and
legibly marked as to identity and proper location on the assembled item and
matchmarked when necessary to facilitate reassembly. Removed parts and mating
parts on the item shall be matchmarkedby stenciling on the part or by the use
of

tags.

Tags shall be waterproof and ink used shall e

waterproof.

Tags
shall be firmly

secured

to

each

individual

part.

All

fasteners

removed during
disassembly shall be reinstalled in one of the mating

parts.

A part shall not
be disassembled unless it can be readily assembled in the field without
5.1.1.3. Cleaning and drying.

Component

parts,

disassembled

parts,
attachments,

accessories,

assembly,

hardware and small miscellaneous parts
Shall be cleaned, dried, preserved, packaged and packed like the basic unit
and

as

specified

herein.

Cleaning shall be in accordance with method C-1 of
MIL-P-116 except that no class 1 ozone depleting substances such as 1.1.1
trichloroethane, chlorofluorocarbons, halons or carbon tetrachloride shall be
used. Drying shall be accomplished by any applicable means stated in
*

5.1.1.4.

Preservation.

Immediately after cleaning and drying,
surfaces that are subject to corrosion or deterioration shall be treated with
a P-type preservative. Preservation shall be in accordance with any
applicable method of MIL-P-116 except that preservative such as P-6 shall not
be used. Excessive use of preservative compounds

shall

be

avoided.
Preservative compounds shall not be applied to plastic, corrosion resistant
metal, or metal that is treated or painted to resist corrosion.
5.1.1.5.

Technical

data.

Technical data furnished shall be placed in a
waterproof,

greaseproof bag, sealed and and attached to the table or placed in
the
box
containing
the
table.
5.1.1.6.

Locks

and

keys

The interior of the locks shall be mated with
dry lubricant and operated to assure penetration of the lubricant. The locks
with keys attached shall be placed in waterproof, greaseproof bag sealed
attached in a conspicuous place to the worktable with tape conforming to
5.1.2.

Level

c. Worktables and shelving shall be preserved in
accordance
with
MIL-STD-1190.