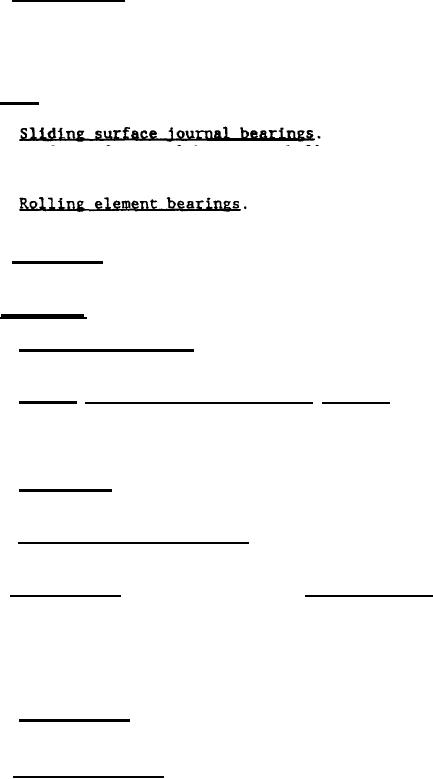 3.4.3.2

Clutch

hubs.

Wall thickness of clutch hubs shall be sufficient to
prevent cracking or fracture under shrink fit, torque, bending moment, and
centrifugal and other loading imposed during normal operation of the clutch.

Wall
thicknesses shall also allow for the effects of keyways, splines, holes, or other
features that introduce stress concentrations.
Unless otherwise specified (see
6.2), sliding surface of journal bearings shall be lined with the anti-friction
materials specified in table I (see 3.2).
Bearings shall be in accordance with
3.4.5

Lubrication. Unless otherwise specified (see 6.2), lubricant shall be
supplied to the clutch from the associated equipment.
3.4.6.1
Bolting
for
casings.
Fasteners for casings shall be in accordance
3.4.6.2

Bolting for rotating and stationary parts. Fasteners for all
rotating and stationary parts shall be in accordance with table II and shall
conform to grade 5 or better of MIL-S-1222 (see 3.2). All fasteners shall be
locked in accordance with MIL-N-25027 and MIL-F-18240.
3,4.6.3

Bolt

holes.

When clutches are nitrided or carburized, bolt hole and
adjacent areas shall not be case hardened to permit reaming at assembly.
3.4.6.4
Fasteners.
weight
balance.
Clutch
bolts,
nuts,
and
cap
screws
shall
be weight balanced to values given below:
Bolts shall be furnished as sets or sized for their
respective holes and marked.
3.4.6.6

Fastener

torque.

Installation torque limits and thread lubricant
requirements shall be established by the clutch contractor. The lower limit
of installation torque shall be sufficient to prevent joint separation under the
normal operating loads and, when required (see 3.4.9), under shock. Where not
(a) Combined stress in the fastener threads under the upper limit of
installation torque shall not exceed 75 percent of yield strength