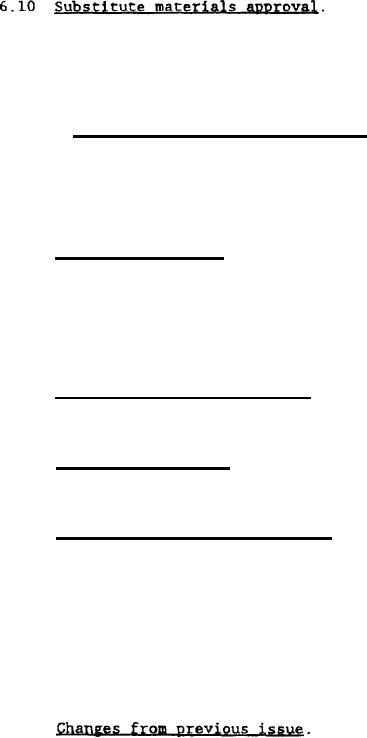 The coupling requirements covered by MIL-C-18087(SHIPS) dated 7 March 1955 are
Contractors who anticipate bidding to
this specification may obtain from the command or agency concerned "across-the-
board" approval of commercial or contractor specification materials, including
test and examination requirements, to be used in lieu of the Government specifica-
tion requirements referred to herein. The approval of substitute material must
represent no present or predicted cost increase to the contracting activity.
6.10.1

substitute

materials

when

bidding.

Contractors who anticipate using
substitute materials should Indicate these materials as alternatives in the bid
proposal.

Prior approval should be indicated, where applicable, by citing
approval

letters.

The material substitutions will be approved or not approved in
whole or in part by the contracting activity. Such approval applies only to a
specific purchase or contract.
6.11

Misalignment

values.

Misalignment values should be provided to the
contracting activity and should contain the following information:
Maximum continuous misalignment.
Maximum transient misalignment.
6.12

Fastener

installation

torque.

Installation torque limits and thread
lubricant requirements should be specified in the technical manuals for all
6.13 Tooth hardness data. When requested by the Government inspector or
contracting

activity,

test reports should include tooth hardness data for case
6.14 Subject term (key word)

listing.
Marginal notations are not used in this
revision to identify changes with respect to the previous issue due to the
extensiveness of the changes.