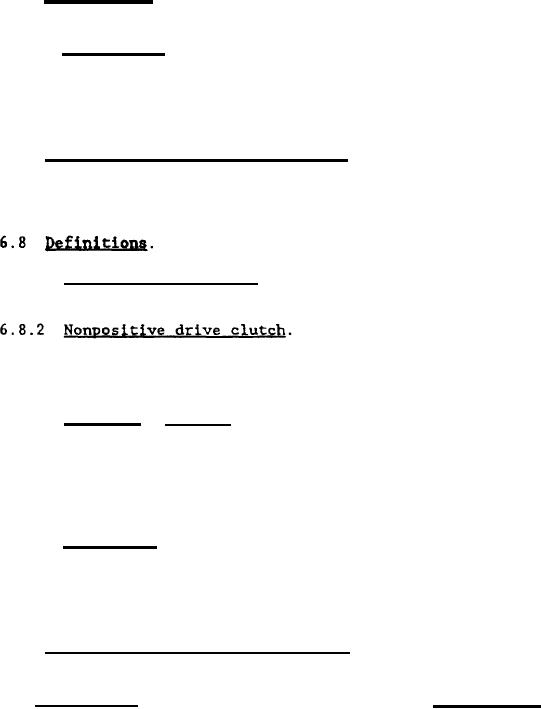 6.6

Provis

ioning.

Provisioning Technical Documentation (PTD), spare parts,
and repair parts should be furnished as specified in the contract.
6.6.1

Spar

e

parts.

When ordering spare parts or repair parts for the
equipment covered by this specification, the contract should state that such spare
parts and their repair parts should meet the same requirements and quality
assurance provisions as the parts used in the manufacture of the equipment.
Packaging for such parts should also be specified.
6.7

Sub

-contracted ma terial and

marts.

The packaging requirements of
referenced documents listed in section 2 do not apply when material and parts
are acquired by the contractor for incorporation into the equipment and lose their
separate identity when the equipment is shipped.
6.8.1

Positive

drive

clutch.

A positive drive clutch is a clutch which
transmits torque through dental teeth or toothed members without slip.
A nonpositive drive clutch is a clutch
which transmits torque through synchronizing elements such as friction plates,
drums, cones, spragues, wedging elements, or through a hydraulic fluid drive
6.8.3

Overr

u

nning

clutch.

. A

nonpositive

overrunning

clutch

(the

IV)

is a
clutch whose output free wheels when turning faster than the clutch input, and
which,

upon accelerating the input up to output speed, will engage and transmit
input

torque,

or one whose input shaft free wheels when turning faster than
the

output

shaft,

and engages and transmits input torque when the input shaft
decelerates to the same speed as the output shaft.
Case depth is defined as the depth at which:
(a)

For

carburized

parts

- case hardness is Rockwell C50 or 5 points
less than the surface hardness, whichever is smaller.
(b)

For

nitrided

parts

- case hardness is 110 percent of core hardness
6.9

Cross

refe

rence

of classific

ation.

The following is a cross reference
of classification between the clutches of MIL-C-18087 and this revision:
- Hydraulic (fluid drive)
- Nonpositive drive hydraulic
- Friction (hydraulically or
Type

III

- Nonpositive drive friction
Type

VI - Friction (pneumatically
Type

II - Nonpositive drive friction
Type

VII

- Positive drive
Type IV - Nonpositive drive overrunning
Type

VI - Positive drive overrunning