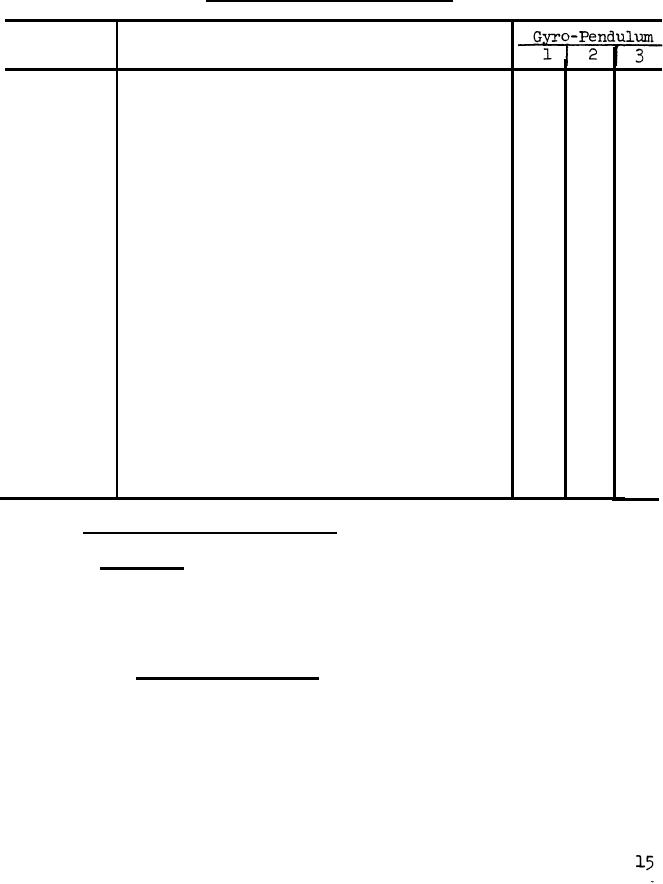 4.5.1.6 Items of test equipment specified in QAP 60214.
Preproduction Test Schedule
Acceptance tests and examinations (4.7)
Temperature,
storage
(4.5.2.4.1)
Temperature, operating (4.5.2.4.2)
Storage orientation sensitivity
Acceptance tests and examinations (4.7)
4.5.2 Detailed preproduction tests
4. 5.2.1.1 The gyro-pendulum shall be vibrated for a total of nine
hours (3.4.1, and Tables II and VII) in accordance with the requirements
of Procedure XII of MIL-E-5272 and the vibration deviations of 4.5.2.1.1.1.
4.5.2.1.1.1 Vibration deviations. The following are deviations from
Procedure

XII

of

MIL-E-5272.

Individual resonance surveys shall be con-
ducted with vibration applied along each of three mutually perpendicular
axes.

The resonant and cycling periods in each axis shall be three hours
at room temperature in accordance with Table VII.