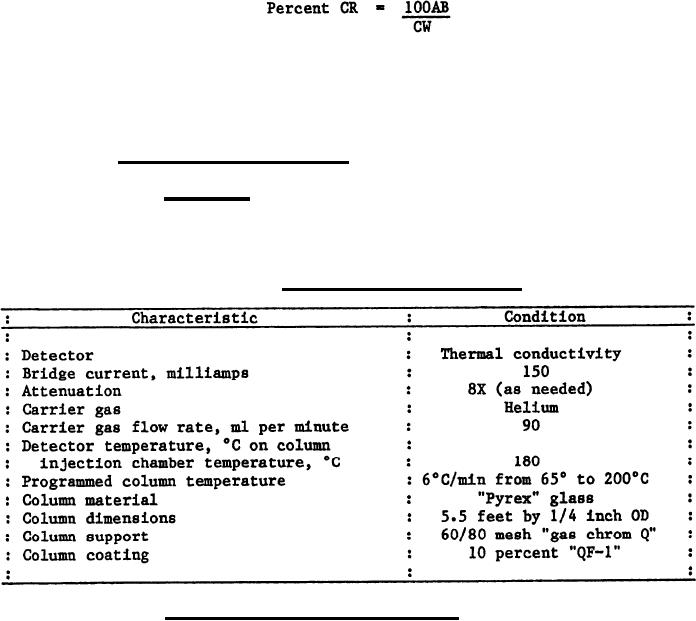 nanometers.

Plot the absorbance of each diluted standard solution against its
concentration in milligrams per liter using rectangular coordinate paper.

Plot
the standard curve using the method of least squares as the line determining
procedure.

Calculate the concentration of each diluted solution as follows:
Concentration of diluted solution in milligrams per liter = 10 AB
A = Milliliters in transfered stock solution aliquot and
B = Concentration of stock solution in milligrams per milliliter.
Calculate the percent by weight CR as follows:
Absorbance of specimen solution,
Weight in grams of recrystallized CR,
Absorbance of standard solution, and
Weight

in

grams

of

specimen.
Gas-liquid
chromatography.
(a)

Apparatus.

Use

a

gas-liquid

chromatography

with

isothermal

or
temperature

programming.

Recommended chromatographic conditions for a
Perkin-Elmer Model 900 chromatography are shown in table I. These conditions
may be modified as necessary when other chromatography are used.
TABLE I. Chromatographic conditions
(b) Determination of response factor. Prepare a 10-ml ethanol
solution containing approximately 0.5 g of CR of known purity (see 6.6) and 0.5
g of an internal standard of known purity.

(1,10-Dibromodecane

has

been

found
satisfactory for use as an internal standard; other materials may be used.)