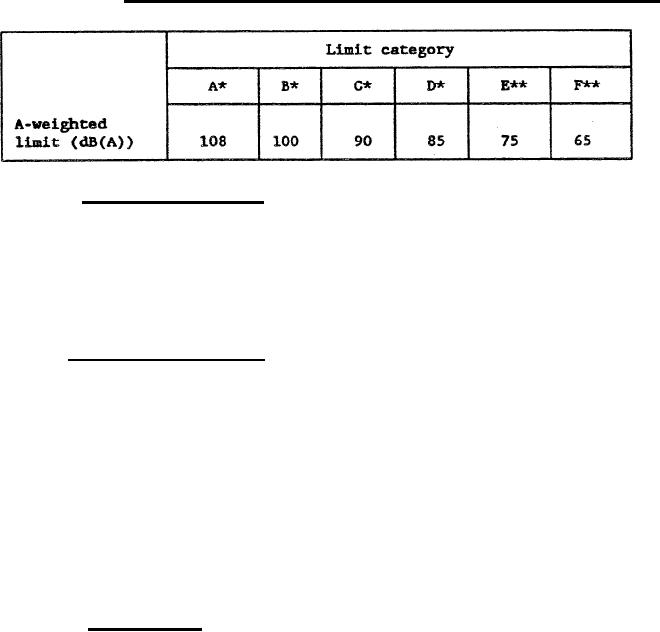 requirements of 4.7.11 and the data requirements of MIL-STD-1474,
The following table I shall be used in lieu of table II contained in
TABLE I. Steadv-state noise limits (db) for personnel-occupied areas.
3.25 Treatment and painting. The parts of the bruck normally painted shall
be cleaned, treated, and painted in accordance with the contractor's
commercial practice. Unless otherwise specified (see 6.2), final color shall
be

contractor's

normal

color.

When

specified

(see

6.2),

treatment,

priming
and topcoating shall be done in accordance with MIL-T-704, type A, topcoat
color yellow 13538. When CARC is specified (see 6.2), treatment, priming and
topcoating

shall

`be

done

in

accordance

with

MIL-T-704,

type

F or G as
applicable,
topcoat
color
green
383.
3.26 Identification marking. Unless otherwise specified (see 6.2), each
truck shall be identified with an identification plate conforming to
MIL-P-514, type I, style I, composition C (GG-P-455, type I, grade A, class 1)
which shall be located in a visible and permanent location on the truck.
Also, state the independent testing laboratory name, independent laboratory
registration or index number assigned to the inspected truck, and date and
location

of

independent

laboratory

inspection.

Unless

otherwise

specified
(see 6.2), a shipping data plate and instruction plates/labels shall conform
to MIL-P-514, type III, composition C (GG-P-455, type I, grade A, class 1).
All plates shall be securely attached to the truck with bolts, rivets or
screws and shall be furnished and mounted by the contractor. The truck shall
also be equipped with instructions, warnings and caution plates prominently
located and describing any special or important procedure to be followed in
operating, loading and servicing the truck or its components.
3.26.1
Truck
marking.
When
vehicle
providied
with
contractor
commercial
color, contractor commercial markings shall be provided. When yellow or CARC
paint

is

provided

(see

3.25)

markings

shall

be

black..

Characters

shall

be
block-type capital letters and Arabic numerals. Location, and character size
shall be as shown in table II.