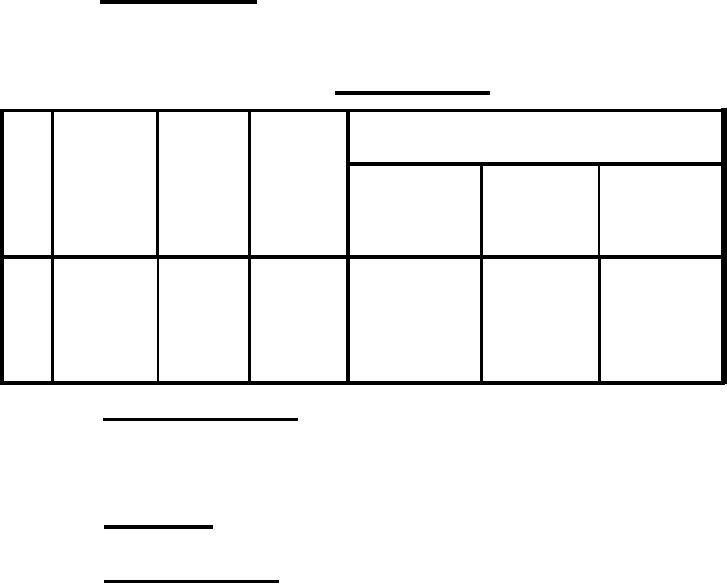 c. One of the MODE lamps shall illuminate and correspond to the
position of the MODE switch.
The RANGE lamp shall illuminate steady or flash and correspond to
the position of the MODE seleetor switch.
e. With the EMER POWER switch set to the OFF position after the
power turn-on conditions are met, the analog voltage between
J6-D l d J6-L shall be 1.70 0.25 Vrms.
3.3.2

Ranging

operation.

The

RANGE

button

shall

"function

in

accordance
with requirements specified in table II and in the cyclical numerical sequence
established by the item numbers of that table.

(See

4.6.2.2)
TABLE
II.
Ranging
operation.
3.3.3 Range return selector. With the SELECT indicator lamp illuminated
and with buttons 1, 2 and LAST pressed singly in l ny sequence, each range of
not more than the first three target returns shall be displayed singly in the
same

sequence.

The consecutive button identification shall correspond to the
first,

second

and

third

target

returns.

(See

4.6.2.3)
3.3.4

RESET

switch.

With the RESET button pressed, the RANGE and RETURNS
readouts

shall

be

zero.

(See

4.6.2.4)
3.3.5

BATTLE

RANGE

switch.

With the MODE switch in the ON, TEST, or AUTO
position and with the BATTLE RANGE switch pressed, the 1200 meter range shall
be generated and strobed into the computer, the RANGE end RETURNS readouts
shall be zero and the BATTLE RANGE lamp shall illuminate. The analog voltage
between
J
6-
D
and
J
6-
L
shall

be

1.277

0.10

Vrms.

(See

4.6.2.5)