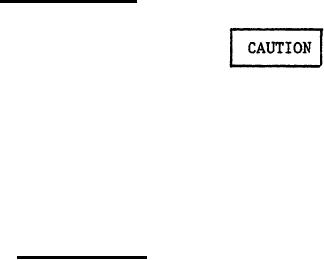 shall constitute tare values, used to correct the final contamination levels.
The receiver assembly shall then be subjected to a temperature conditioning
The ambient temperature shall be reduced to 15.6C (60F) and
maintained

for

approximately

12

hours.
The ambient temperature shall be increased to 43.3C (110F) and
maintained for approximately 12

hours.
The ambient temperature conditioning of a and b shall be repeated.
At the completion of the conditioning cycle, and within 10 minutes after re-
moval from the 43.3C (110F) ambient condition, a gas sample shall be with-
drawn from the receiver assembly charging valve. This sample shall be used to
determine water contamination.

For

consistency,

the water sample must be taken
at the 2000 psig level. Subsequent samples would be taken at random lower
pressures to determine remaining contaminant levels of Table I. The levels
shall not exceed the requirements of that table.
The receiver assembly shall be subjected to the
Do

not

pressurize

receiver

assemblies

at

high'

fill
rates.

Filler valves and receiver valves fitted with
integral or poppet-type valve seats may become dam-
aged

due

to

overheating.

Do not lubricate rubber or
plastic seals (O-rings, valve seats, etc.), threads
or other mating parts that might, thereby, contaminate
4.6.5.1

Proof

pressure.

The receiver assembly shall be pressurized to 5500
+/-1OO

psig

for

three

minutes.

To conduct this test the pressure relief valve
shall be removed from the nitrogen receiver and a suitable pressure fitting
installed.

This fitting shall be utilized for the pressurization. There shall
be no failure of parts. In addition, when the receiver assembly is returned
to atmospheric pressure there shall be no visual indication of permanent defor-
mation.

Replace the original relief valve o-ring with a new contractor sup-
plied o-ring, before commencing with the next test.